The 8th Annual Music & Art Festival will take place outdoors (rain or shine) on the beautiful grounds of Boulder Lodge Resort. The Gates open at 11:30am, Saturday, August 17. Admission is $20.00/adults, $10.00/teens and Free for children 12 and under. Artist and Craft booths will be open from noon until 6pm, Music will be ongoing throught out the day until 10pm. Hamburgers, Brats, Hot dogs and Chips as well as Pop, Beer, Wine and Ice Cream treats will all be available for purchase on the grounds. The indoor kitchen will not be open during the event but alcoholic drinks can be purchased at the bar. There will also be yard games going on all day for young and old. Don't forget to bring lawn chairs, blankets, umbrellas, etc. Coolers are not permitted.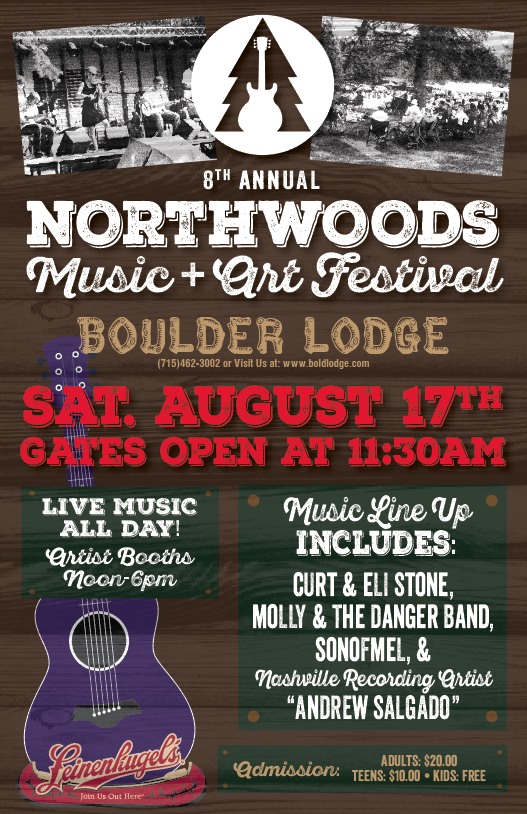 We have a fantastic line up of musicians for our 8th annual Music & Art Festival this year…………Starting out with "Sonofmel"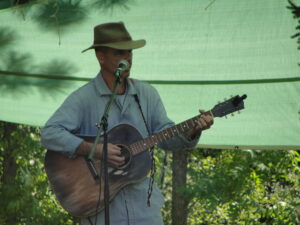 Sometimes it takes traveling far from home to find out where you come from… 

… after 20 years of wandering the globe and combing the sites, lights, sounds, and shadows for signs of the sacred sprung from the profane, time warrants a return to the mid west with a time-worn guitar, fistfuls of chords strung up with verse, bringing the foreign 
home to the familiar… 
John Sonofmel's music comes from experiences throughout his life. All original songs that come from deep within and sometimes with dark thoughts, John has a unique style. He has taken his music on the road from time to time but he can be seen and heard live every Saturday afternoon at "Out of the Woods Winery" as well as many other local establishments.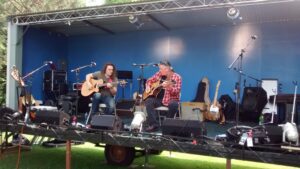 Curt and Eli Stone are back again by popular demand. This father, son duo have been playing together for the past several years and even though Curt says his son is a much better guitar player than he is, their blend and mix of sounds is quite pleasing. Eli plays some mezmerizing music as a soloist with his guitar, you won't want to miss. Curt has played guitar for over 50 years and along the way has gone on to perform with some notables: Fast Company, Little K and the Fabulous Inernationals, Judd Erickson, Whisky River and Tom Draughan.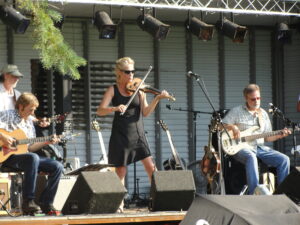 Molly and the Danger Band, also back by popuar demand, will take the stage at 4pm. It just wouldn't be a festival without Molly and her band returning every year to liven up the crowd. Molly with her fiddle, mandolin, guitar and vocals, Tom with guitar, fiddle and vocals, and Randy on bass, percussion and vocals brings together an energetic mix of sound. It is always a pleasure to watch great performers playing everything from Americana, Bluegrass to Newgrass, Classic Rock and Celtic.
Then last (but definately not least) to finish off the evening, and taking the stage about 7pm, all the way from Nashville, TN, Andrew Salgado and his band will light up the night with more of a country flair……….
Nashville based Singer/Songwriter Andrew Salgado has co-written or performed with Carrie Underwood, Toby Keith, Darryl Worley, Clint Black, Brian Wilson/ Kacey Musgraves, and others.
In 2019 his song "Back Home" was placed in the feature film, Heavens to Betsy 2, which Woman's Day Magazine named one of the top 10 Christian films to see in 2019. His music can be heard on Pandora, Spotify, Apple Music, and at his website, www.AndrewSalgado.net.
Andrew is currently being featured on the nationally-aired PBS special, Songs at the Center as well as been featured extensively on WGN, ABC, and NBC.  http://www.pbs.org/video/2365959618
In the Fall of 2019 Andrew we'll be headlining "The NO Genre Tour" featuring support acts from all genres. Country, Pop, Latin, Soul and more. "I'm so excited about this tour, we get to share the stage with great acts in and outside of country music. I'm truly looking forward to it." Salgado said.
When Andrew isn't on the road touring, he is working extensively with charities to help raise funds and awareness. Andrew has worked with Autism Speaks, Love Christian Clearinghouse, UCP, and many more. He is currently serving his second year as the National Spokesperson for Music Over Miles, a charity that focuses on programs for schools and youth ages 11-18.https://musicovermiles.org/