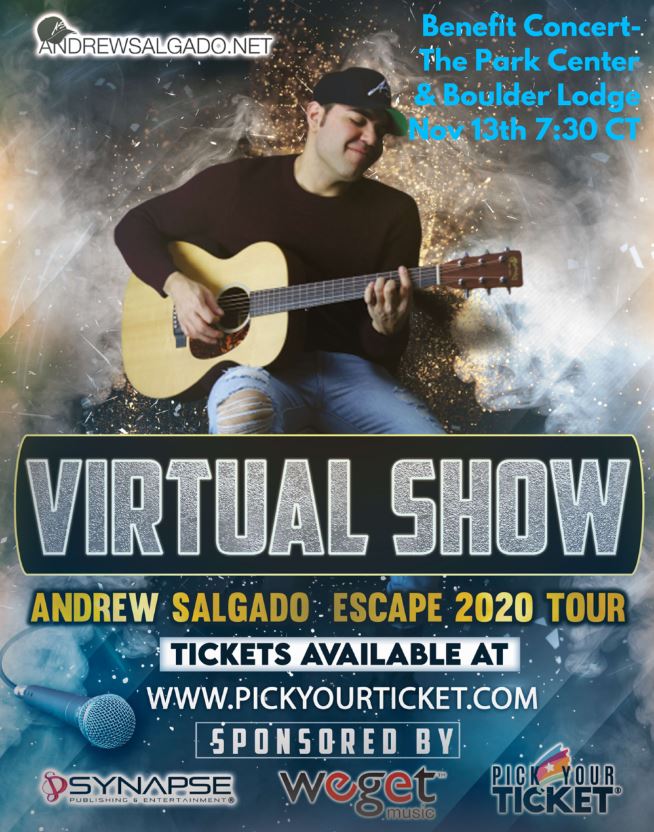 Boulder Lodge and the Park Center are pleased to announce an upcoming virtual concert featuring Nashville recording artist Andrew Salgado. Many of you will remember him from the 2019 Northwoods Music and Art Festival here at Boulder Lodge or his performance at the Park Center. He is one hell of a musician and performer.
In these difficult times, some of us have been affected more that others. Musicians and music venues have been hit particularly hard. Musicians are self-employed and are generally not eligible for unemployment benefits. If they're not working, they're not able to pay their bills. The same is true for the venues that have been unable to open. The bills keep coming, but the doors are shut.
In an effort to come up with new and imaginative ways for live music and musicians to survive, this project was hatched. Proceeds from this concert will be going to the musicians and the Park Center, so please, buy a ticket, make some popcorn, and experience a virtual live concert to support arts!
Long live live music
Tickets are $12.00. To order your ticket, Click Here  Be sure to select the concert on November 13th, benefiting the Park Center.
Here is a sample video of one of Andrew's songs. https://www.youtube.com/watch?v=xQknbYrWL0k
Andrew Salgado's Bio:
Born and raised in the suburbs of Chicago, singer/songwriter Andrew Salgado was introduced to country music at a young age. Whether it was listening to country music with his grandfather or playing in his dads cover band, there is no denying his roots.
Shortly after winning the Pepsi Southern Original Contest in 2013 Andrew released his first music video for his single "Dance On" which has been viewed over 300k times on YouTube. https://www.youtube.com/watch?v=xQknbYrWL0k In 2014, Andrew relocated to Nashville and has co-written or performed with Carrie Underwood, Toby Keith, Darryl Worley, Clint Black, Brian Wilson/ Kacey Musgraves, Jim Peterik, and others. Earlier this year, Andrew released his second album, 86 Vol 1, which is completely solo-written and was recently picked up by Pandora. Andrew is currently being featured on the nationally-aired PBS special, Songs at the Center as well as been featured extensively on WGN, ABC, and NBC.  http://www.pbs.org/video/2365959618 
When Andrew isn't on the road touring he is working extensively with charities to help raise funds and awareness. Andrew has worked with Autism Speaks, Love Christian Clearinghouse, and is currently serving his second year as the National Spokesperson for Music Over Miles, a charitable organization based in the Chicago area that focuses on music industry education programs for schools and youth ages 11-18. https://musicovermiles.org/
For more information about Andrew, please visit www.andrewsalgado.net/press-kit Also be sure to follow Andrew on Facebook www.facebook.com/andrewsalgado/ , and on Twitter/Instagram @andrewsalgado