The property of Boulder Lodge has history dating back to the late 1800's. It was named Boulder Lodge for the large boulder that greets you off of highway 77 as you arrive. With the buildings being used to house and serve lumberjacks they tell a story that is now over 100 years old!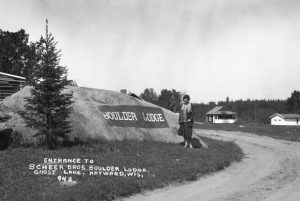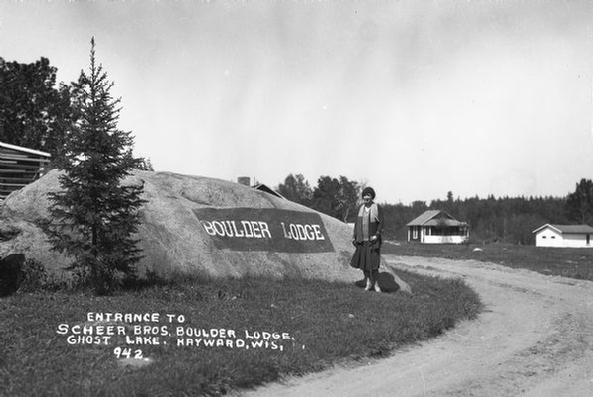 A Ghostly Encounter
Boulder Lodge sits in the heart of the Chequamagon National Forest with the Great Divide Scenic Highway at its doorstep. The lodge is also situated on Ghost Lake, which legend has it got its name from two trappers, who were stooped into believing that two singing loons on the lake were ghosts. The lake was an asset to loggers as they would float logs down the lake and Ghost Creek into the Chippewa River. Ghost Lake was a part of a vast system of lakes and rivers that helped accomplish the harvesting of the northern pine forests.
World's Best Muskie Fishing
Boulder Lodge is not only known because of its involvement in logging but also because of its fishing. The lake has always been known for its great muskie fishing. Famous fisherman Cal Johnson wrote an article titled "The Spook of Ghost Lake" which tells of a mammoth muskie that to this day could very well be lurking in the waters of GhostLake. Fishermen from all over the world and nation have come to Sawyer County and specifically to the Ghost Creek and surrounding waters for the best muskie fishing you can find!
An Unforgettable Experience in the Northwoods
In its early history as a resort and outfitter it was a place for families to stay for the summer, some the entire summer! They were waited on hand and foot being escorted to each of the meals served. Children would swim, fish, and play in the open lawn that to this day this still serves as a recreational area for many sporting events and games. With time-tested popularity as a resort and outfitter Boulder Lodge is still carrying on its tradition of being a reputable all inclusive resort. It is historic, yet preserved, catering to the outdoorsmen or to those who are looking for a place to be still, Boulder Lodge will strive to make your northwoods experience unforgettable.